Christmas is such a special time of year, and no doubt in recent times it has become an even more important holiday where families can bond and celebrate. Inspiring joy and inviting groups of students to create festive crafts brings about warmth and connection. The act of making can have such a positive effect on our mental health, so inviting children and adults alike to break out the felt, paper and a pom pom or two will ignite the Christmas spirit as we roll into the festive season.
Personalised Christmas Bags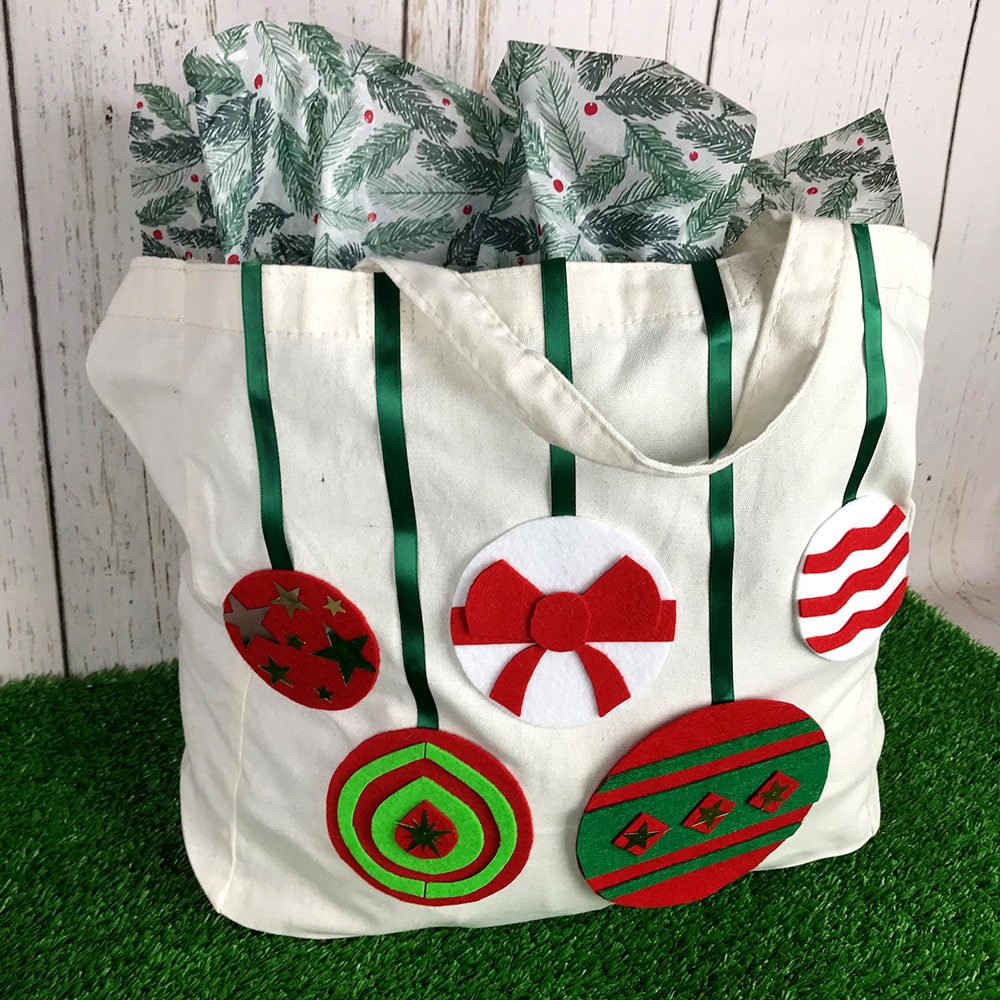 Who doesn't love a unique and fun reusable shopping bag nowadays, especially since the removal of single-use plastic. There are so many possibilities with a calico shopping bag, as previously seen with the block print stamps. Students will enjoy coming up with festive designs such as reindeers, baubles, Christmas trees and Santa on his sleigh, making this project an individual experience.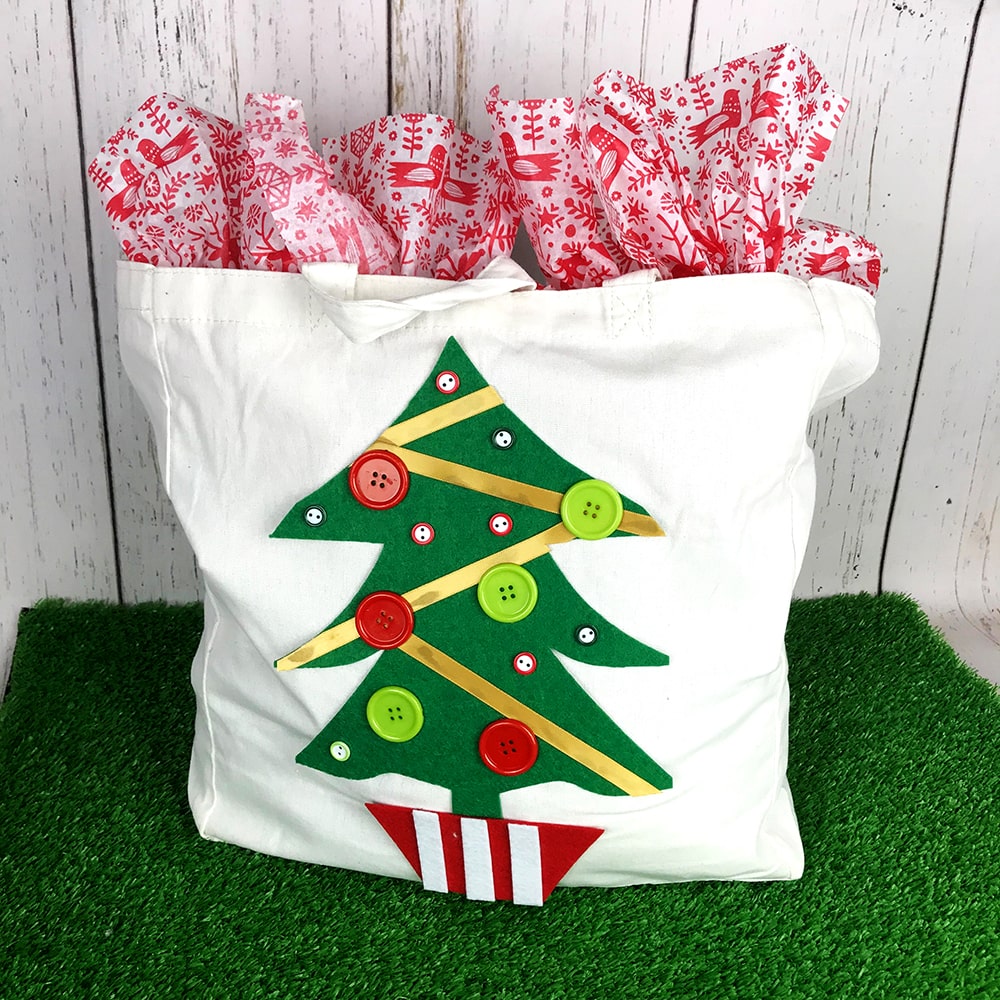 Once they have decided on their design, students can either cut felt shapes freehand or create paper patterns to pin to the fabric. Students will have fun arranging their felt pieces onto the calico bag before gluing them down. Giving students the option of adding embellishments like buttons, ribbons, pom poms and sequins to their textile arrangement adds a lovely three-dimensional texture to their final composition. Certainly a must-have to stand out from the crowd when Christmas shopping.
Featured Products:
Calico Shopping Bag – Pack of 10
Christmas Felt- Pack of 50
Simple Mosaicking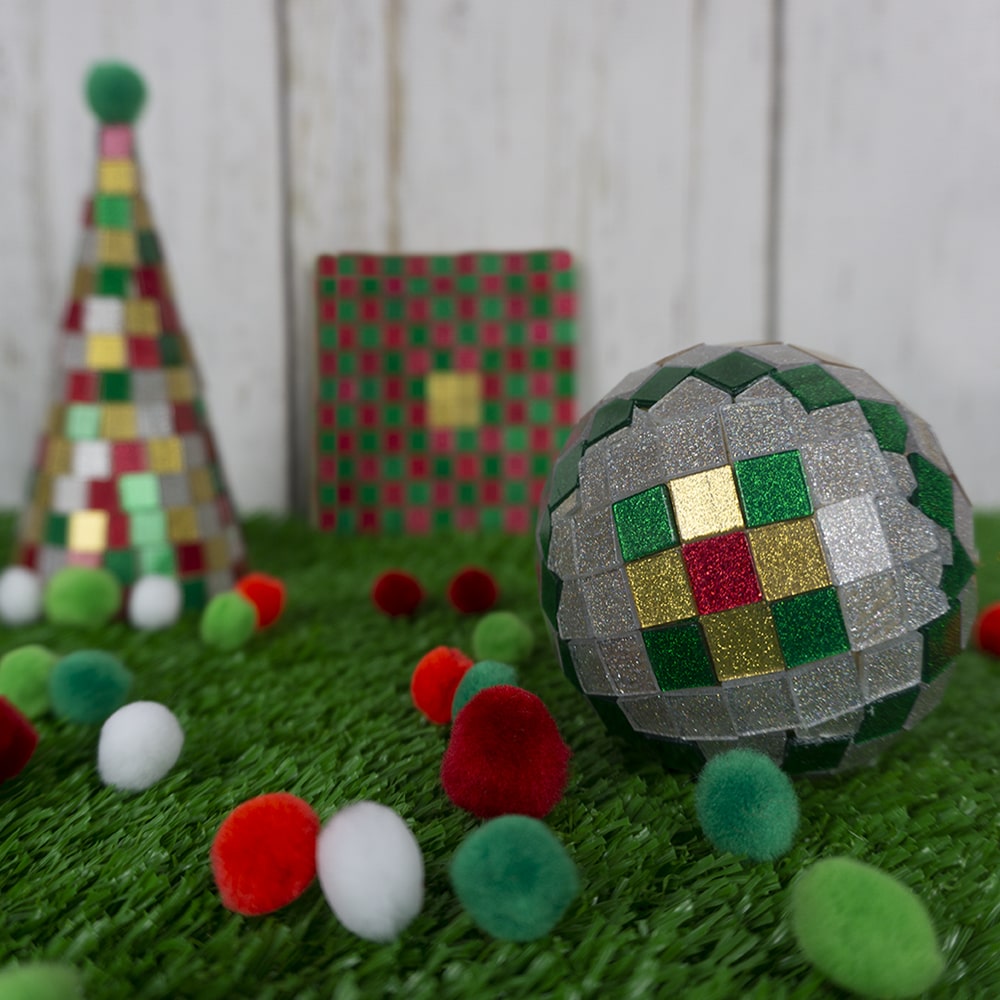 When thinking about the art of mosaicking, I know sometimes the process can be quite daunting. Especially the idea of using tile adhesive and grout with students. However, these resin mosaic tiles are fantastic as they can be used on all types of surfaces, can be cut with scissors if necessary and can be adhered with craft glue or pushed into mediums like Magiclay. Students can adorn papier-mache shapes such as baubles or cones since the process is not too complex. They can explore patterns when making Christmas coasters and photo frames, and for young children it will develop their fine motor skills as they pick up each little mosaic square. These mosaic tiles shimmer so brightly in the light that they are sure to spark the imagination of all who encounter them.
Featured Products:
Mosaic Tiles Christmas Colours
Square Wooden Coasters- Pack of 20
Paper Mache Cones – Pack of 6
Christmas Paper Mache Balls with Gold String
Christmas Pom Poms – Pack of 300
Fun and Easy Shrink Film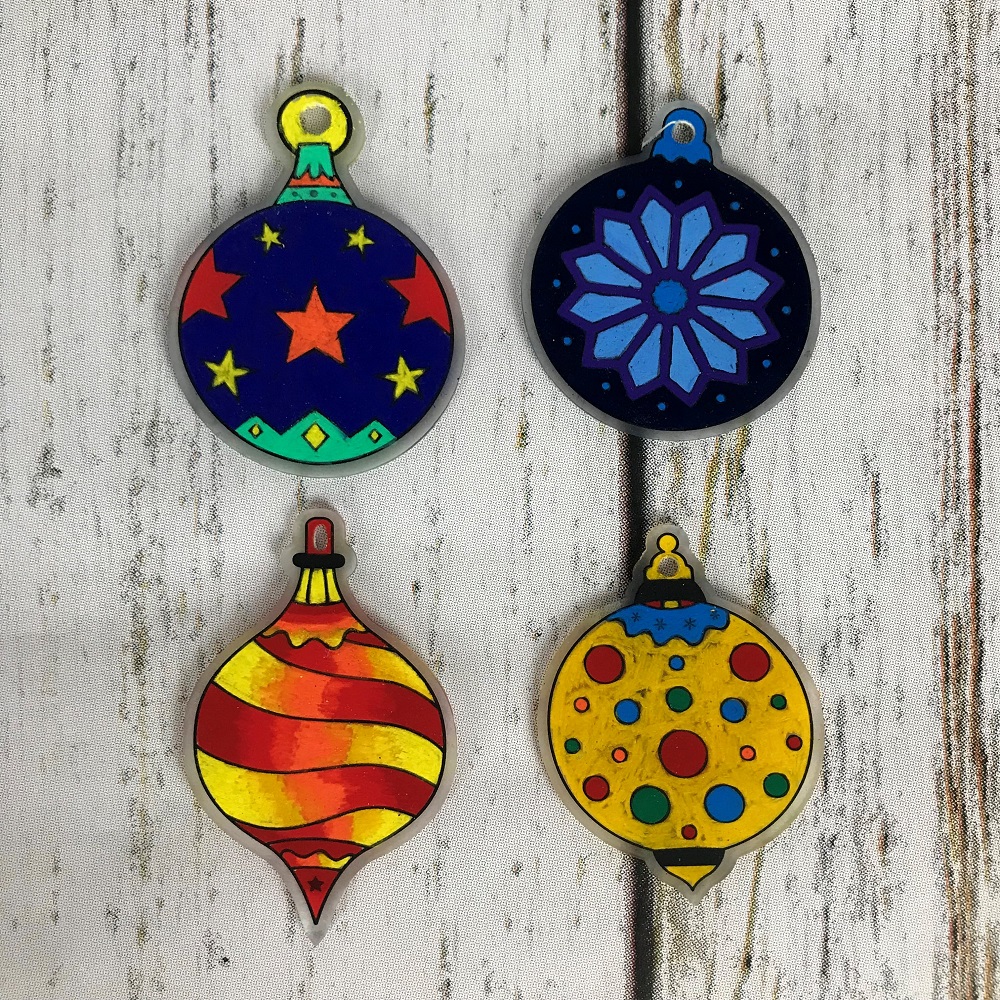 This Christmas project certainly brings back a fond memory from my childhood where I made shrinky dinks out of chip packets. The process has certainly come a long way since then with much sophistication. Your students will be absolutely fascinated with this process and will be glued to the oven door as they watch their decorations bend and contort before laying flat.
These Christmas Shrink Film Decorations have lovely patterns and designs where students can use permanent markers or pencils to add colour. I personally like pencils as they enable students to explore ombres and blending, which looks striking when shrunk to a miniature size. Paired with leather thronging for a necklace or placed on a metal key ring, they become a brilliant present or keepsake.
Featured Product:
Christmas Shrink Film Decorations- Pack of 12
Christmas Stamping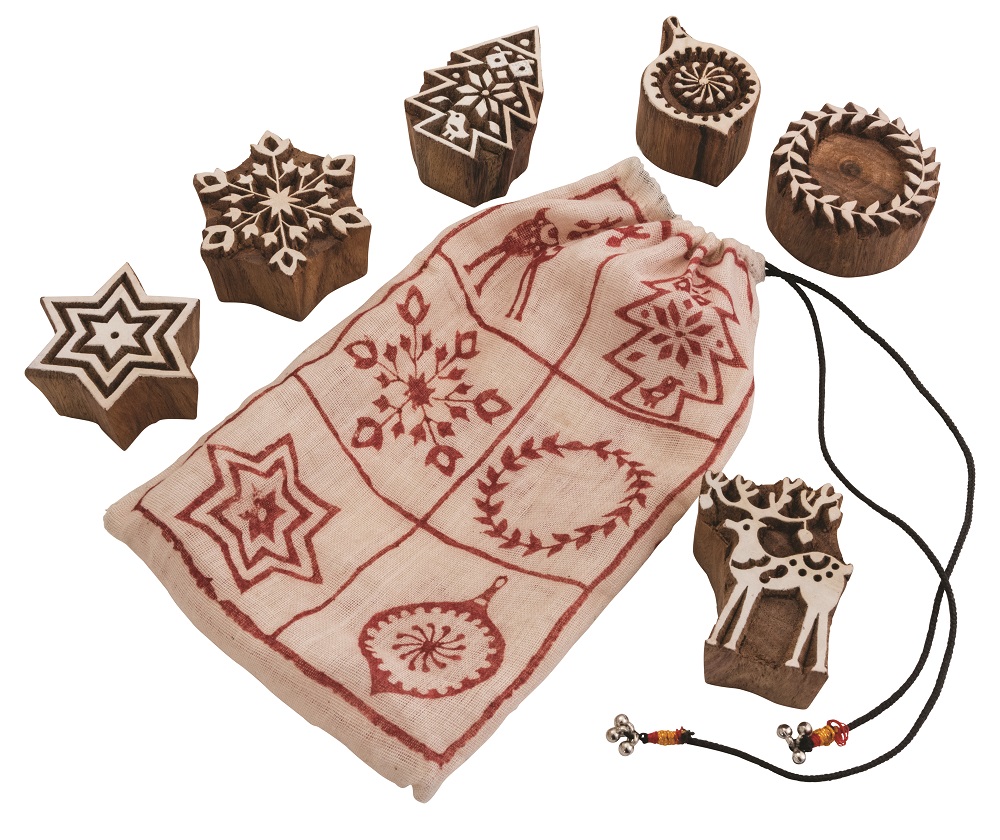 Who doesn't love a stamp, especially when it is adorned with an iconic Christmas object! Stamps are so versatile for this time of year and can be applied to a wide variety of materials. Pair them with acrylic paint, block ink, embossing fluid or ink pads, the medium and colours that can be used are endless and expose students to the concept of repetition. Whether stamping on fabric or paper, the final print can be used to create many different Christmas-inspired delights.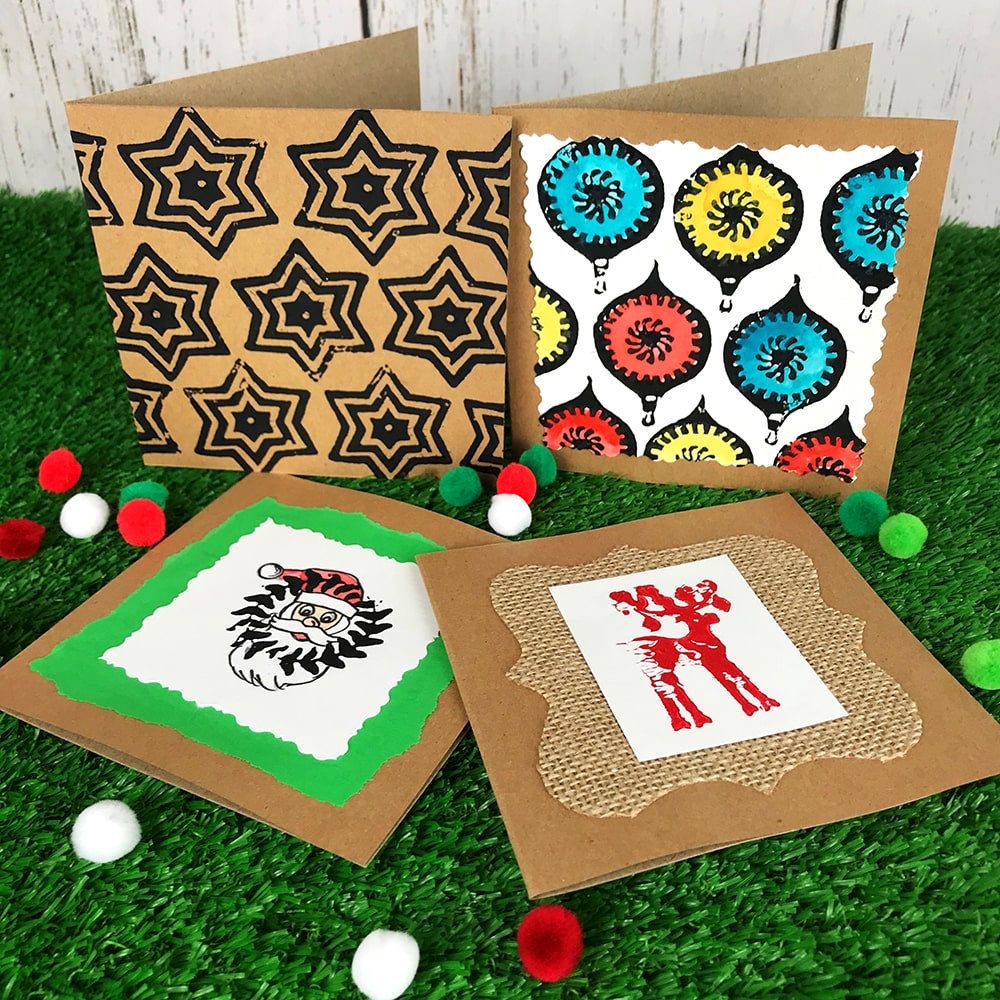 These include Christmas cards where prints can be layered on top of paper, fabrics and hessian. Santa portraits can be drawn inside wreath prints and stamps can be repeated over the surface of a card. A lovely way to add colour to your prints is with watercolours or pencils; this not only enhances the print but also allows students to explore different colour combinations. This type of project is always a favourite as people of all ages enjoy giving cards to their loved ones.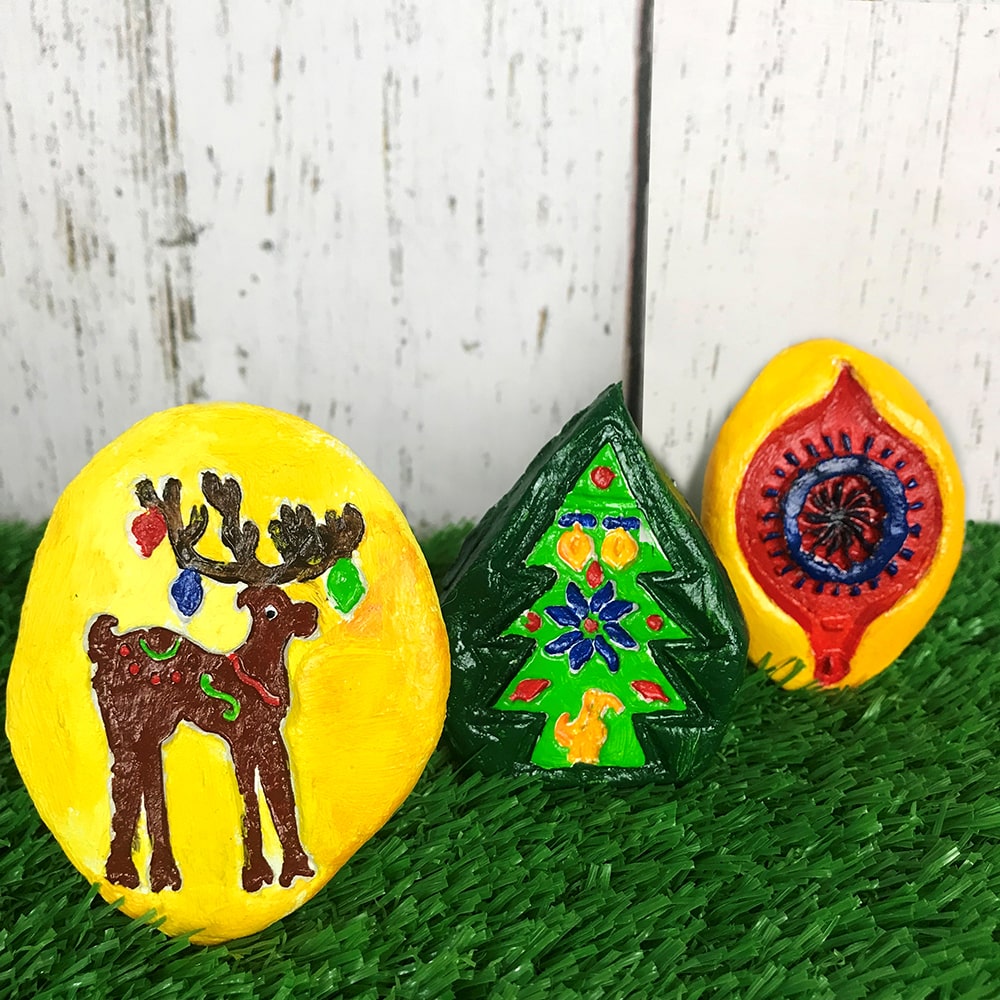 If Christmas cards are not your thing, stamps can also be pushed into clay to leave an impression on its surface. Whether you use air-dried clay or earthenware, these lovely pieces can be turned into pendants and brooches by adding holes or pin backs. Once dried or fired, you can have so much fun adding colour to these stamp designs and, when complete, a spot of gloss really brings them to life. Students will really treasure these as well as delight in giving them to special people in their lives.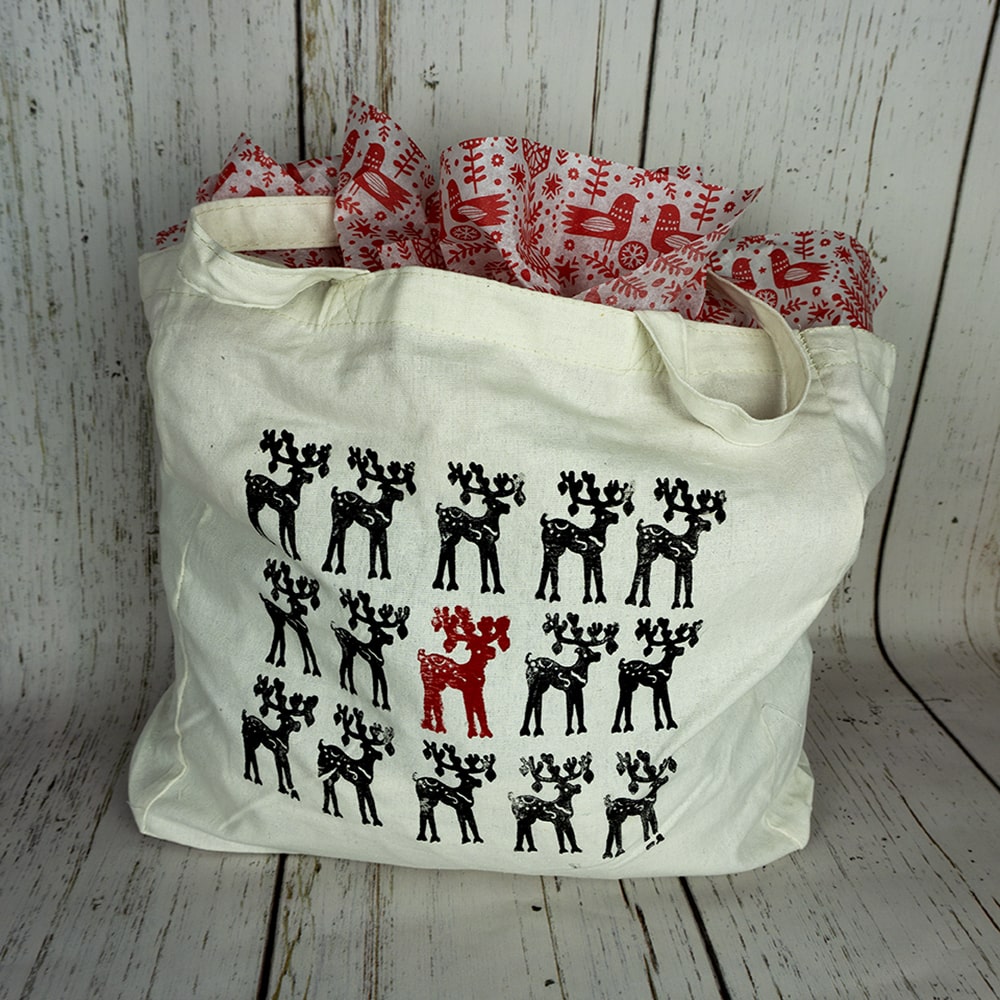 If fabric is more your cup of tea, then these stamps are just delightful. Using fabric paint and a roller, they can be used to create repetitive designs onto T-shirts and calico shopping bags. Students will love coming up with their own compositions with the different stamps and can play with pattern when choosing colours.
Featured Products:
Christmas Block Print Stamps- Set of 6
Christmas Pom Poms – Pack of 300
Creatistics Air Dry Ceramic Clay
Calico Shopping bag- Pack of 10
Bling up Your Favourite Artwork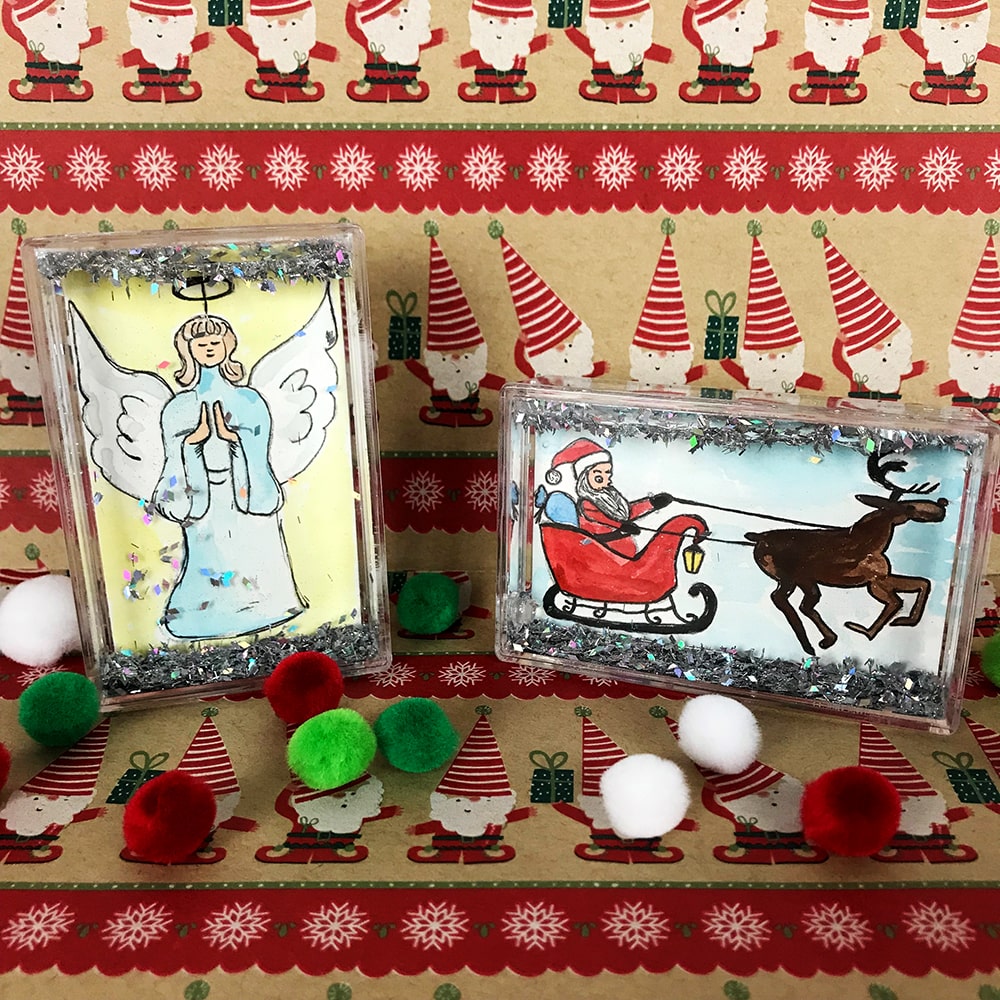 A framed artwork from a young artist would have to be the most special Christmas gift a child can give you. Whether it is a pencil drawing, a watercolour painting or a printout of a digital piece, these glitter photo frames are just fabulous. Imagine combining your students' artwork with a snow globe. Students will love placing their work on one side and then filling the other side up with water to give their masterpiece a touch of sparkle. Students can make artwork specifically to the size of these frames or artwork can be photographed and resized digitally before being printed out. Who doesn't love a little glitter in their life?
Featured Products:
Glitter Liquid Photo Frame – Pack of 10
Christmas Pom Poms – Pack of 300
Cute as a Button Reindeers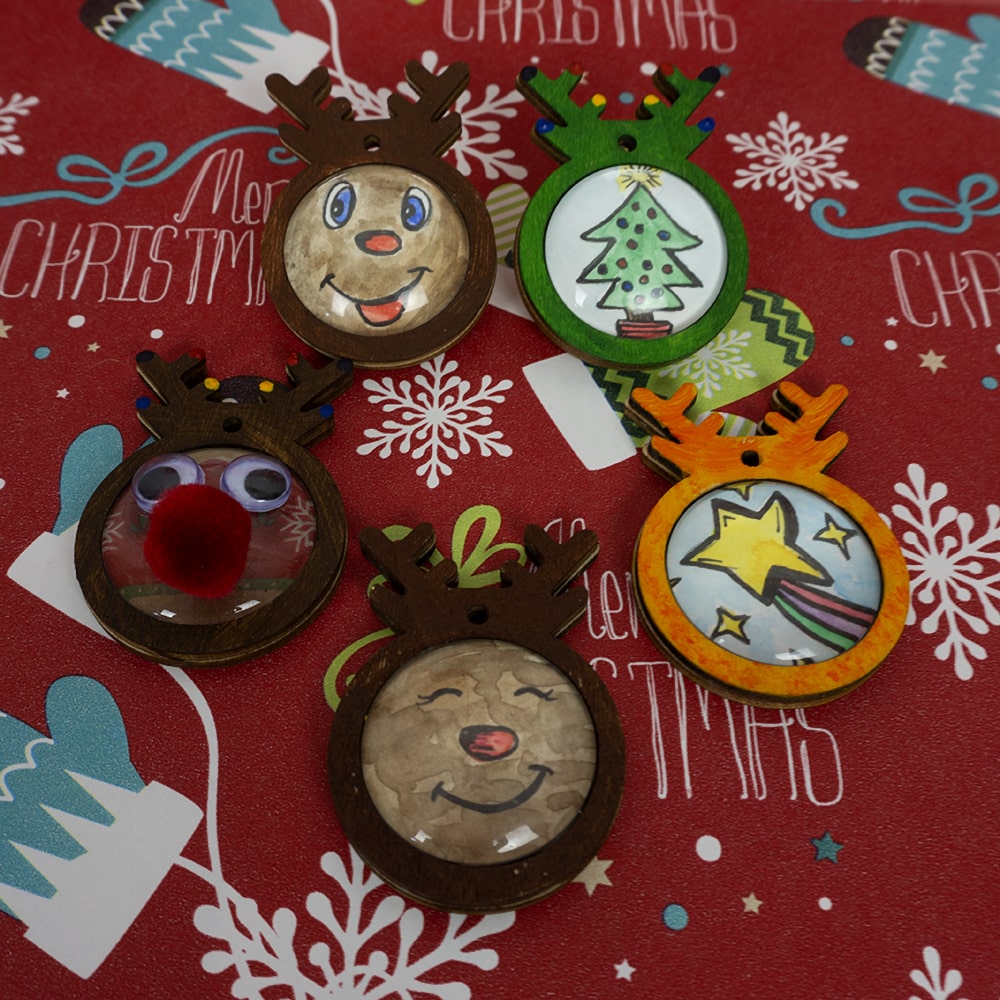 Can you name all the reindeer that pull Santa's sleigh? These reindeer ornaments are just the cutest and I know your students will think so too. Their most obvious use is to create a reindeer face, whether it be with markers, pencils or watercolours, and it is then placed inside and covered with the glass cabochon. Another alternative to creating the reindeer would be to place a pattern piece of paper under the cabochon and then add eyes and a nose to the surface of the glass with craft materials. Either way, these reindeers can then become pendants or ornaments where they can be further personalised when adding colours and embellishments to the wooden backing.
There will always be that student who will think outside the box and do something a little bit different. Who said it had to be a reindeer? I certainly agree. You can also fill these pendants with small paintings of Christmas icons and adorn your backing to match. The creativity is endless.
Featured Product:
Wooden Reindeer Ornaments- Pack of 10
Versatile Paper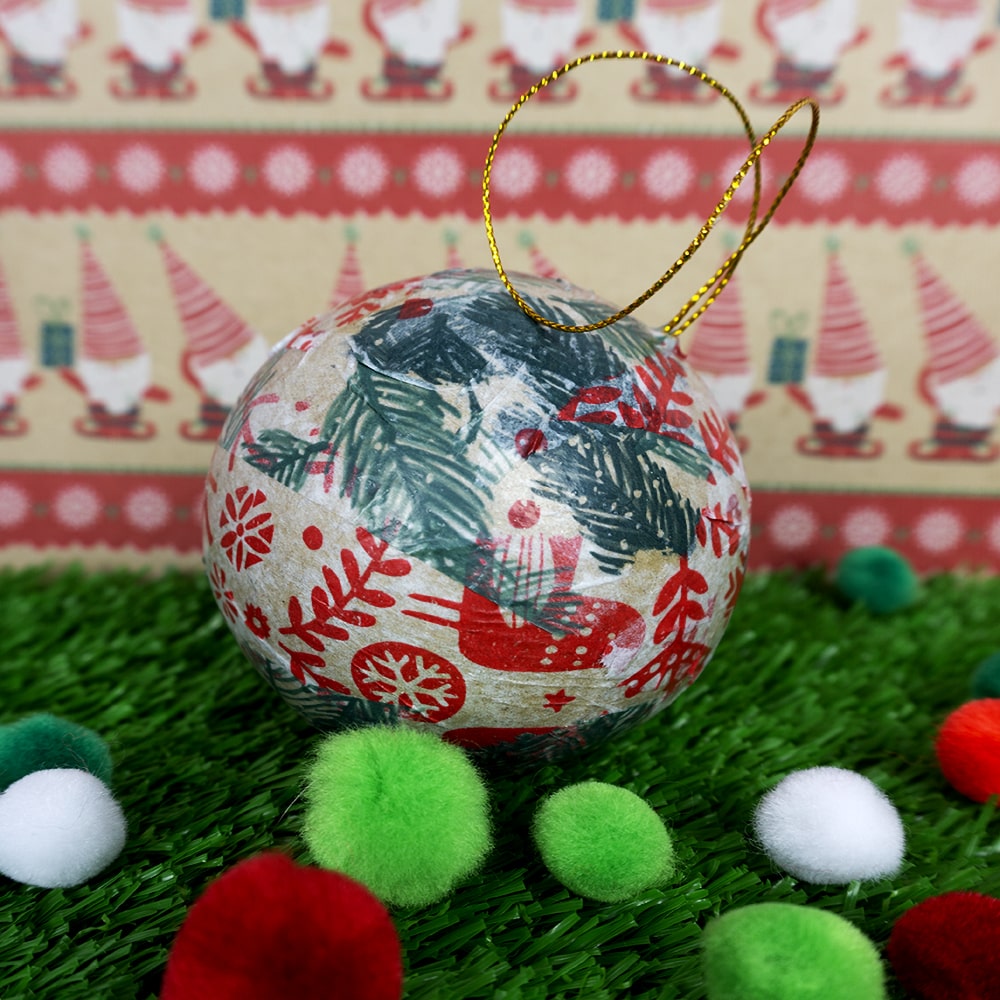 Ah, don't you just love the smell of paper during the festive season! It is the aroma of a million ideas and possibilities for an abundance of folded, cut and collaged crafts. Whether it be patterned paper or tissue paper, they are equally fun and useful, so it is fantastic when they come in a single handy pack. From origami folded stars to Christmas cards and decoupage Christmas baubles, what is your favourite way to use paper during the festive season?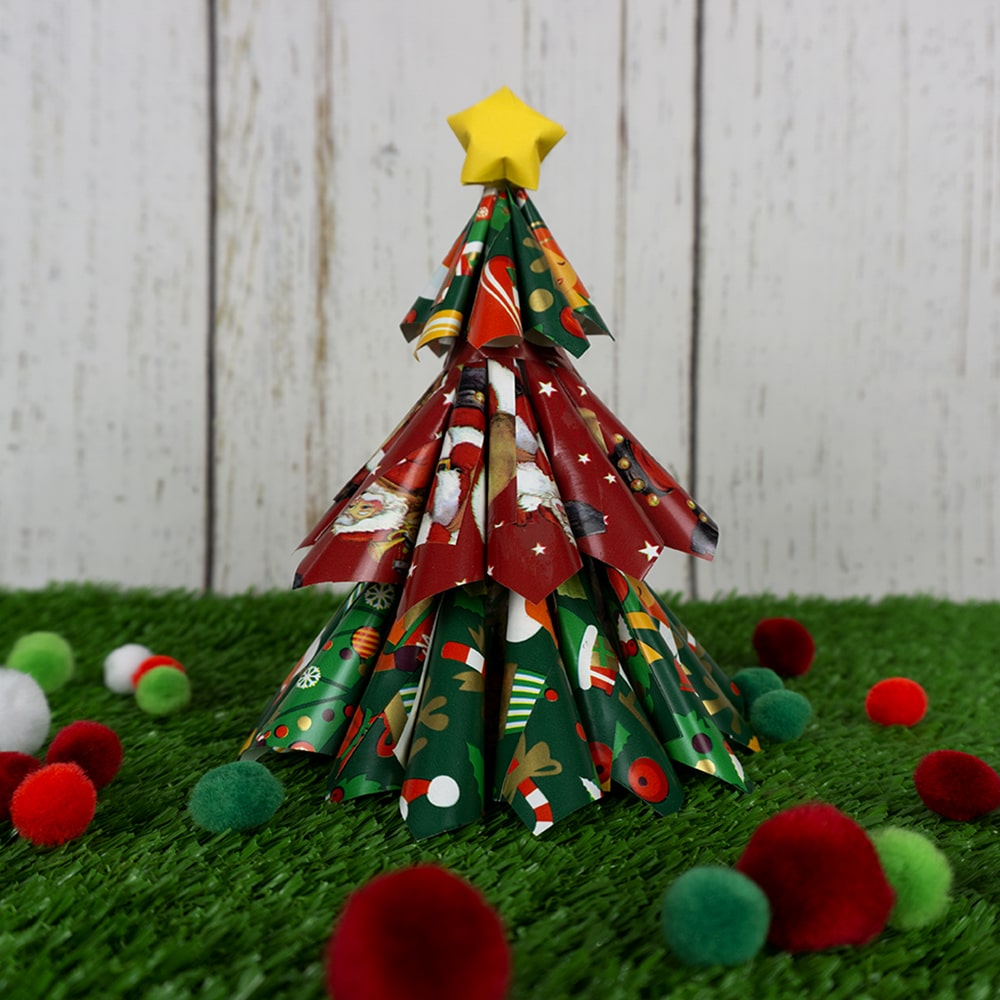 I particularly love to show students how to fold and roll paper into different shapes that can then be used on three-dimensional forms. A cone is the perfect beginning of a Christmas tree where paper can be applied in different ways to create interesting forms. Paper can be fringed or rolled into little cones and layered all the way up to form the tree. I always tell my students that paper is so versatile and that with a little snip and a twist it can become something amazing!
Featured Products:
Christmas Paper & Tissue Pack of 300
Christmas Papier Mache Balls Pack of 10
Paper Mache Cones – Pack of 6
This year, I hope Christmas brings an extra bit of magic and joy to us all. I hope that Christmas projects and crafts can be enjoyed and used to highlight how special the festive season is to families, friends and communities. I hope that the act of creating and giving can bring us together to regain that feeling of pure happiness that we experience when exploring and expressing ourselves creatively.
About the Author
Olivia is a specialist Visual Art Teacher in an ELC, primary and secondary school setting. She has a broad breadth of experience with inquiry learning and is an IBO qualified educator. Olivia particularly enjoys developing Visual Art units around STEAM which include electronics, technology, and science concepts. Follow Olivia on Instagram in her quest to inspire creativity @creativemindsinbloom.