It's the most wonderful time of the year… almost! Christmas is nearly here and it's a great time to start gathering ideas for activities and gifts. If you're looking for fun and easy ways to celebrate Christmas with your students, then you have come to the right place. Read on to find out some of my favourite ways to celebrate Christmas in the classroom.
Christmas Tree Crafts
Is there anything that says 'CHRISTMAS IS HERE!' more than a festive, decorated Christmas tree? In this activity, children were given a variety of craft materials to create and decorate their own Christmas tree.  Children used the triangular-shaped paper pieces to create their tree and then other strips of paper and collage to decorate it. The small circular pieces (leftover from a hole puncher! #recycling) made the perfect decorations!
Featured product:
Christmas Snow-globes
My students were super excited to make these snow-globes. There are several ways that these snow-globes could be decorated – they could feature a photograph of the child, a drawing of Santa, a reindeer, a snowman etc… there are lots of different options! For our snow-globes, we decided to draw a picture of ourselves on one side and then wrote Merry Christmas on the other side. We used black marker to draw and then added watercolour. We used Christmas stickers to embellish our drawings too and make them even more Christmas-y! Making these snow-globes is very fun, and super-easy. All you have to do is insert the photograph or drawing into the middle slot of the snow-globe and then fill the hole with water. My students absolutely adored shaking their snow-globes and watching the glitter swirl around in front of their drawings!
Featured products:
Gingerbread Men
Making gingerbread houses and gingerbread biscuits are both popular activities to do at Christmas time so I decided to implement an easy, classroom-friendly version of this with my students last year. We made these gingerbread men by using paper cut outs, glitter, pom poms, colouring pens and glue. We joined all of their hands up to make beautiful bunting, which made a festive Christmas decoration for the classroom.
Jingle Bells

Jingle bells… Jingle bells… Jingle all the way! There are a bunch of activities that you can do with bells at Christmas time to get children in the festive spirit! One of my students' favourite activities with bells was when we hid bells in Christmas coloured rice and then used our magnetic wands to find them. The bells make a beautiful jingling sound as they are drawn to the magnetic wands. Another interesting way to explore magnetic forces with bells is to put them inside a bottle filled with water and then watch them move as you move the magnetic wand up and down. My students always think this is very cool and there is lots of excitement!
Featured products:
Christmas Ornaments
At Christmas time, children always love taking something special home from the classroom as a keepsake. These ornaments are the perfect gift as they are made from wood so they will last for years to come. In the pack, there are 6 designs to choose from so my students all chose their favourite one and then got to work painting, decorating and embellishing. We used lots of paint and collage materials to decorate our ornaments. We threaded a glitter pipe cleaner through the hole on each one so that they can easily be hung on the Christmas tree once taken home.
 Featured products:
Ornaments,  Stickers,  Watercolour Paints,  Buttons,  Pom Poms, 
Christmas Necklaces
Pasta necklaces… always a favourite activity in early childhood classrooms! We gave our pasta necklaces a Christmas twist by using the classic red and green festive colours. We integrated this Christmas activity with our mathematics focus of repeating patterns and children were encouraged to create a pattern as they threaded the pasta onto their string. My students loved wearing their Christmas necklaces with pride.
Letters to Santa
Christmas time is the perfect opportunity to practice letter writing. This 'Letters to Santa' writing table was set up with writing prompts, paper, envelopes and stamps. Of course, the area would not be complete without a post box for students to post their letters. Students loved engaging with this space as they busily wrote letters and showcased their learning from the year.
Calendars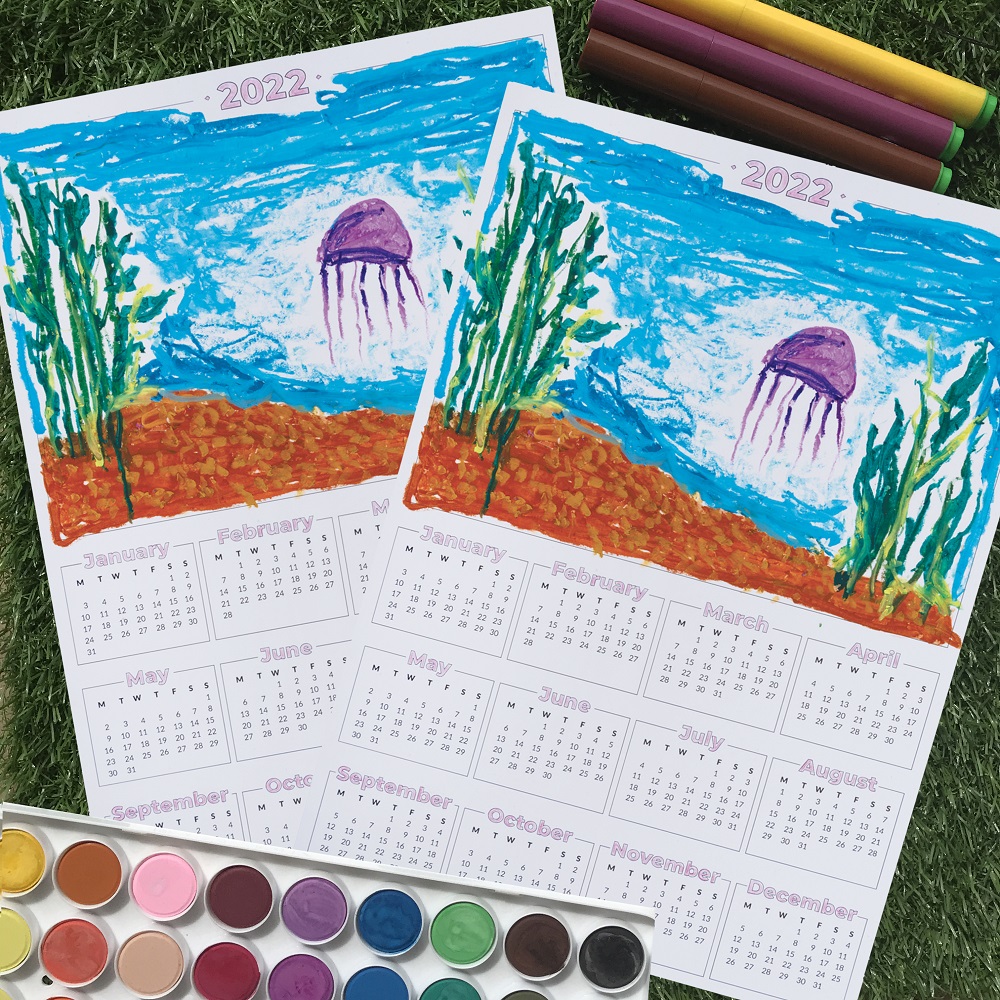 Calendars are a great end of the year activity for children to get excited about the next year ahead. Children are able to decorate these blank 12-month calendar templates however they like – they are perfect for decorating, adding a photograph or drawing a picture. We used watercolours to paint our calendars but you could also use colouring pens or collage materials and glue. We drew a picture of ourselves as "big grade 1ers" which is where we will be next year when the children are using their calendars.
Featured products:
Christmas Wreaths
For our Christmas gifts at the end of the year, we made these beautiful wreaths to take home and hang on our front doors. These cardboard wreaths are ideal for painting, drawing or attaching embellishments and can be personalised any way you like. Last year, my students really loved free collage so I presented them with a range of collage pieces and let them run wild. We used items such as tinsel, cut up wrapping paper, stickers, sequins and glitter to embellish our wreaths. The cool thing about this resource is that it also comes with a circular part in the middle that can be left in, or removed and then used for a Christmas ornament also. Double win!
Featured product:
Cardboard Creations

I must admit, I've saved my favourite idea until last… CARDBOARD CREATIONS! A.k.a… making anything and everything out of cardboard! Last year, we were lucky enough to get our hands on some giant fridge boxes, which were perfect for turning into a life-size gingerbread house. And by life-size, I mean tall enough for a grown adult to stand up inside! We embellished our gingerbread house with lots of lollies and sweets. My students loved engaging in dramatic play inside their huge gingerbread house.
Another item we made from cardboard was a sleigh. The students in my class loved pushing each other around in the sleigh and lots of dramatic play was happening in our classroom at this point. We even made some cardboard reindeers to 'pull' the sleigh along.
What is your favourite way to celebrate Christmas in the classroom?
ABOUT HEIDI:
Heidi Overbye from Learning Through Play is a Brisbane based, Early Years Teacher who currently teaches Prep, the first year of formal schooling in Queensland. Heidi is an advocate for play-based, hands-on learning experiences and creating stimulating and creative learning spaces. Heidi shares what happens in her classroom daily on her Instagram page, Learning Through Play. See @learning.through.play for a huge range of activities, play spaces and lesson ideas.