Louise McKinnon, a Primary Digital and Design Technologies Teacher who works at Springfield Central State School  talks to us about her experience of using LEGO® Education SPIKE Prime™ in the classroom.
What do you see as the key benefits of having LEGO Education in your classroom?
LEGO Education provides a conceptual platform for the Digital and Design Technologies curriculum and enables authentic collaboration in the classroom. In our school, students use LEGO Education products from grade 1 to 6 in the Technology classroom which builds familiarity and enables them to feel confident to share ideas on how to engineer and program.
Why do you use LEGO Education in your school?
LEGO Education provides a multi-grade-level approach to students' computational thinking in a logical manner. Moving from WeDo to SPIKE to EV3 Mindstorms allows students to begin with an easy entry point and progress to more complex thinking with technology. It allows students to feel safe to explore their creativity, not only through engineering and building with LEGO, but also within many other critical skills, such as teamwork, computational thinking, programming and more.
How easy was it to integrate SPIKE into your lessons?
Being a LEGO school, SPIKE was an effortless platform to integrate into our lessons. Building upon the simplistic tasks with WeDo for the older students in grade 3-4 was super easy as their knowledge grew. Tasks on the LEGO Education website also provided an easy scaffold to build lessons around.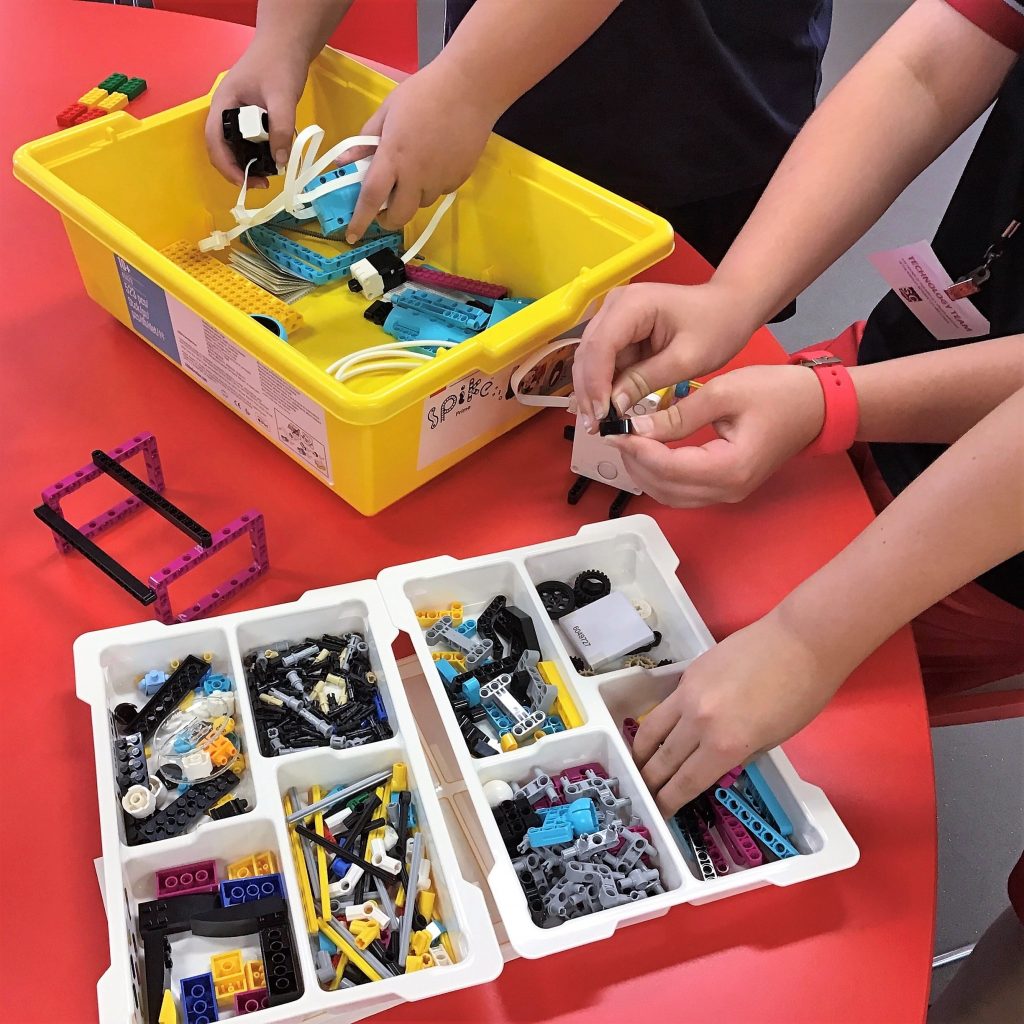 How do children respond to using SPIKE?
The children love SPIKE! They love the colours and the simplicity of the software is super accessible and promotes engagement for all students. They also love how it is built to look like Scratch, as they are all familiar with Scratch from their lesson progression in the lower grades.
What does SPIKE teach children about coding and conditional thinking?
SPIKE allows students to code through Scratch blocks, which is very familiar to our students. The block colours and easy-to-understand language in the blocks has helped students more easily debug and methodically work through issues, which some students found too advanced with Mindstorms.
What challenges/obstacles has LEGO Education SPIKE Prime solution helped you to overcome?
SPIKE serves as the bridge between WeDo and Mindstorms that had been missing. The jump from WeDo to EV3 Mindstorms was intimidating for some students in relation to both the mechanical and technical sides of the platform. SPIKE has allowed for an effortless transition that is an appealing invitation for students to engage with and build the skills needed to confidently interact with Mindstorms.
What type of engagement do you see in your children when they're using LEGO in the classroom?
A lot! My students love the accessibility of SPIKE. They love how the blocks stand out and are super easy to find. The new addition of the donut block has allowed students to overcome engineering issues with ease, which has helped them to feel confident and creative with the product.
Can you explain your experience in using LEGO Education solutions that stretched across multiple learning standards?
LEGO Education has allowed students to work within many learning standards of the curriculum simultaneously due to the nature of the product. They are working within the Design and Technologies Knowledge and Understanding side of the curriculum through the computational thinking effect LEGO provides, while also engaging in the Design and Technologies Processes and Production Skills when they get to create and be hands-on with the product.
How does using SPIKE in your classroom enhance students' engagement and motivation?
Students who felt disengaged and disheartened from the large leap to Mindstorms are now more engaged. They're taking risks and becoming problem solvers due to the simplicity of the software and hardware components of SPIKE. The colours and fewer parts provide easier construction and navigation and less downtime troubleshooting.
Can you tell us about a time that you used SPIKE in your school and experienced an 'aha moment' with a student or group of students?
The aha moment has happened a lot within the programming stage of students' creations. Younger students are now more readily able to understand and connect the coding blocks as they are very familiar with these through Scratch. The blocks are no longer ambiguous or hard for students to understand. Lots of aha moments and smiles.
What would you say to another teacher who is considering using SPIKE in their school?
Give it a go. Have a play for yourselves and see the benefits it can have for teaching by being active with it. It is an amazing hands-on tool and the best way to see its abilities in the classroom is for the teacher to also be hands-on with the product.
What three words best describe Spike?
Engaging, accessible and interactive.
Featured Product:
LEGO Education SPIKE Prime Set
Did you know that LEGO Education has over 400 FREE Lesson plans that can be sorted by Product, Grade and Subject.
Check them out here: https://education.lego.com/en-us/lessons